---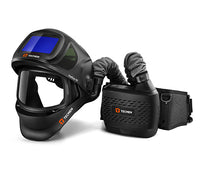 The Techman V3 air fed helmet fatures a flip up design with a large viewing area for grinding.
The Intelligent air supply system will self adjust the flow rate according to the blockage of the filter automatically.
The re-chargeable Li-ion battery charges from empty to full in 1 hour offering up to 15 hours of useage between charges.
With a filter efficiency of 99.97% you can operate all day, every day knowing you are safe from the harmful fumes produced during the welding process.