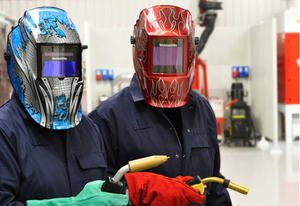 About Us
Here at betterWeld we specialise in training, consultancy and all things fabrication. Todays modern fabricator and welder are expected to ensure that there work and craftsmanship maintains compliance with European standard BSEN 1090. Our training ensures that your staff have skills and qualifications that comply with BSEN9606-1 & BSEN9606-2. Our in house quality consultant (RWC) can provide a bespoke service that includes the production and implementation of your factory production control system (FPC) full compliant with BSEN 3834.
Additionally Here at betterWeld we specialise in all things Fabrication & Welding. As an EAL Accredited Training Centre we can offer a full range of qualifications from accredited introductory courses to coded welder training and weld tests to BSEN 9606 whilst supplying you with latest Welding Machines, Consumables, Abrasives, PPE and much much more
For more information call the team on 01332 982873
Who are Jasic?
JASIC is an international developer, manufacturer and supplier of welding inverters and integrated welding solutions that represent value, reliability, durability and innovation. An international sales network in 60 countries - JASIC has a worldwide reputation for providing the best quality with exceptional service.​
In March 2011, JASIC was successfully launched on the Shenzhen stock exchange and now has realistic ambitions to become the largest manufacturer of welding inverters in the world today.​
Jasic's modern manufacturing site is over 80,000m2 and is arguably the largest and most advanced welding inverter manufacturing base in the world. The production capacity is 1 million units per year.Jasic's Welding Engineering Centre offers several brand new advanced auto production lines, supporting auto chip mounter, auto insertion machine and comprehensive debugging cabinet to achieve highly advanced manufacturing production.  
The manufacturing site is equipped with 13 auto welder assembly lines with self-recovery tooling plate function, 2000m2 SMT & AI workshop (temperature, humidity and dust control, relative clean workshop), 10,000m2 PCBA workshop (Epoxy self-levelling floor anti-static production workshop).
Jasic EVO Range