---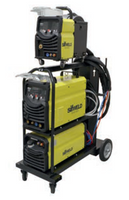 The Sifweld Evolution MTS400SYN is a professional, microprocessor-controlled inverter welding package for MIG, MMA & Lift-TIG applications.

With 100% Duty Cycle at 400A and 60% at 500A this machine is the ideal work horse for high production manufacturing in air cooled or water cooled versions. Using the built in synergic facility the machine will automatically give the optimum welding parameters for the specific material, wire size and shielding gas.

Featuring IGBT technology and providing a lightweight, multi-process machine. A separate wire feed system with full
feature control.
Package Includes 

SifGun 4 Metre MIG Torch
Earth Return Cable
Argon Regulator