---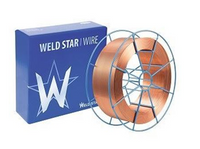 Features and Applications
Copper coated high alloy solid wire for hardfacing and overlay of all C-Mn steels.
This alloy deposits a martensitic structured weld metal with a hardness of about 54-60 HRC.
Excellent abrasion resistance to moderate impact and high toughness.
The weld metal has a Cr-Si structure and if not tempered can only be machined by grinding.
Mostly used with semiautomatic and automatic procedures.
A buffer layer is essential with hard to weld steels.
Precision layer wound for superior wire feeding characteristics.
Typically used on excavators in the mining industry, cylinder crushers, pneumatic hammers, knives, cutting and cold working tools, crumbling jaws, anvils, caterpillars, screws, guide rollers, etc.
Test Certificates can be found online @wilkinsonstar247.com
Typical Base Materials
X45CrSi9-3, 4Xr9Si2, X45CrSi8, HNV1, HNV2, SUH11, X45CrSi 9-3, 401 S45, SUH 1, STR 1, 40Ch9S2*
* Illustrative, not exhaustive list
Standards
EN ISO 14700 - S Fe 8

DIN 8555 - MSG 6-GZ-60-GP

Chemical Composition % (Typical)
C%
Mn%
Si%
S%
 
 
 

0.46

<0.60

3.05

<0.030

 
 
 

 

 

 

 

 

 
 
Cu%
P%
Ni%
Cr%
 
 
 

<0.25

<0.040

<0.50

9.10

 
 
 
Mechanical Properties
Hardness (HRC) - 54 - 60
Mechanical properties are approximate and may vary based on the heat, shielding gas, welding parameters and other factors.
Shielding Gases

EN ISO 14175 - M21

Welding Positions
EN ISO 6947 - PA, PB, PC, PD, PE, PF

Packaging Data
Diameter


Weight

Spool

Pallet Qty


1.00 mm

1.20 mm

15 Kg

15 Kg

BS300


BS300

72

72
Liability: Whilst all reasonable efforts have been made to ensure the accuracy of the information contained, this information is subject to change without notice and can be only considered as suitable for general guidance.