---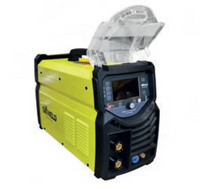 Sale
The advanced Sifweld Evolution Aerotech range of AC/DC
TIG machines have features normally only available on high
end Aerospace specific TIG welding machines, including: Four
power levels of HF ignition strength, fully adjustable cleaning
and welding current levels on both the positive and negative
parts of the AC Square Wave Cycle.

A professional, microprocessor-controlled inverter welding
power source for AC TIG, DC TIG & MMA applications. The use
of IGBT technology providing a compact and lightweight
machine including the advanced Aerotech features, high
speed pulse and the complete range fully adjustable
parameters normally expected on a professional TIG welding
machine. Multi-modal for TIG HF / TIG Lift / MMA process.
Package Includes 
WP26 TIG Torch with Fittings
Earth Cable
Argon Regulator